Maui Hawaii History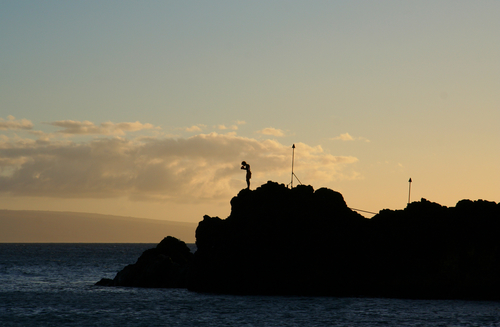 Experience the Islands' beauty, myth, and soul
Poet Derek Walcott wrote "Islands can only exist if we have loved in them." Many resorts reveal an island's beauty—but few unveil its soul. Maui's name evokes myth because Maui is the demigod and mischief maker. He once captured the Sun, making it promise to linger in its journey across the sky—long days ending with blazing sunsets.
The Myth - The History
Through the demigod Maui, the highest chiefs of Maui possessed the power called the Kapu of the Sun-controlling the rising of the sun, its setting and its resting beyond the sea. Each evening the people gathered to say their aloha to the sun. They prayed for protection during the night, the gift of another day and the spirits of ancestors who had followed the sun's path into the beyond.
Black Rock
Such a vigil was held at Pu'u Keha'a, today, known as Black Rock. This promontory came to be designated as one of three great 'Uhane Lele, a sacred point where souls of the dead leaped into their ancestral spirit land. Kahekili, whose name means "Thunderer," was the last chief of Maui. He ruled for about 25 years in the latter half of the 18th century. The years of Kahekili's rule were marked by terrible battles against Kalani'opu'u, a chief of the island of Hawai'i, who was striving to conquer Maui.
Maui survives three invasions
Three massive invasions of Maui were successfully rebuffed by Kahekili. He earned the admiration and loyalty of his men by excelling at a popular sport of the time, lele kawa, leaping feet first from 300 to 400 feet cliffs into pools of fresh water or the sea.
Experience the legend's recreation each night
At Black Rock, he made his most impressive leaps. These were awe inspiring to his men, not because of the height he had bounded from higher cliffs than Black Rock, but because the promontory was revered as 'Uhane Lele. It was believed that only an individual of great spiritual strength could leap into that world and escape without harm. The oceanfront condos recreates the legend nightly.